We often get asked about which eCommerce platform is best. Although we often recommend Magento (and specialize in Magento Managed Hosting), each platform has it's pros & cons. so let's take a deeper dive and take a look.
First, let's take a look at the eCommerce market place, comparing the platforms used by the top 1 million websites.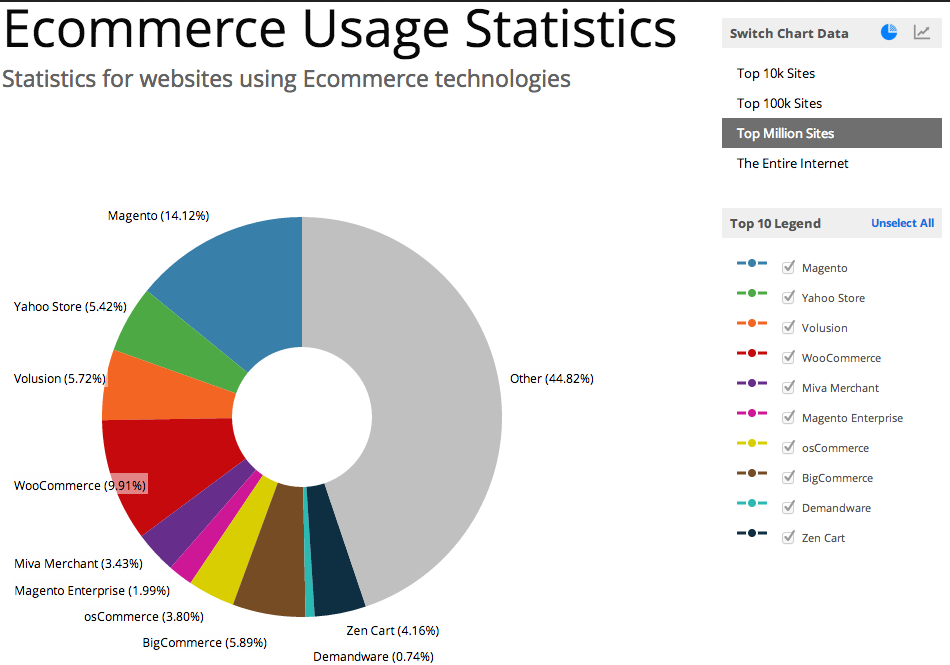 As you can see, Magento continues to be the leading eCommerce provider (and has gained market share every year for the last few years). Being owned by eBay gives Magento tons of funding in developing updates. In fact, their current Magento 2.x is perhaps the biggest update to Magento since it was first released. Additionally, being open source makes it affordable (free for non-enterprise) and ensures that the code is not proprietary and easy to work with. With that in mind, let's take a look at the pros and cons of the most popular platforms.
1. Magento
Open-source, owned by eBay. 14% market share. Just released a major update (Magento 2).
Pros
– Open-source (ie: free).
– Very popular: Tons of themes, plugins, addons, etc.
– Very customizable.
Cons
– Backend can be overwhelming for novice users.
– Requires a developer to do periodic updates, fix bugs.
2. Woocommerce
#1 WordPress addon for Ecommerce. 10% market share.
Pros
– Integrates with WordPress.
– Very easy to use.
Cons
– Limited addons/plguins.
– Somewhat customizable, but still limited.
– Not suitable for high traffic sites.
3. Volusion
15 years in business. 6% market share.
Pros
– Very easy to use.
– Doesn't require separate hosting.
Cons
– Not customizable.
– Limited ability to change anything.
– Hosted by Volusion.
– On-going costs.
4. DemandWare
Enterprise-level Ecommerce. 1% market share.
Pros
– Enterprise-grade – meant for millions of transactions.
– Battle-tested by several fortune 500 companies.
Cons
– Limited plugins/addons.
– Requires a full-time developer to use & maintain.
– Very pricey.
Final Comparison
As you can see, Magento often winds up being the most flexible and cost effective choice. It's for this reason we created a special managed shared hosting plan specifically optimized for Magento: Magento Shared Hosting.